Welcome To Viral Times
Hello. We haven't launched yet! You're very welcome, but we're not properly dressed. Feel free to listen to this audio piece. You'll enjoy it. If you hang around for long enough you might see some messy behind the scenes stuff as we prepare for launch on 1 October. There will be a lot of content up at launch, so, please, do pop back.
Welcome to Viral Times. This is not science fiction. This is not the news. We speak to you from the streets of the slums in a city at the centre of the edge of the world. We speak to you from the middle of a pandemic. The frequency keeps shifting. The signal is not strong. Our voices come to us from far off. From the future. We are speaking from the future. Tune in.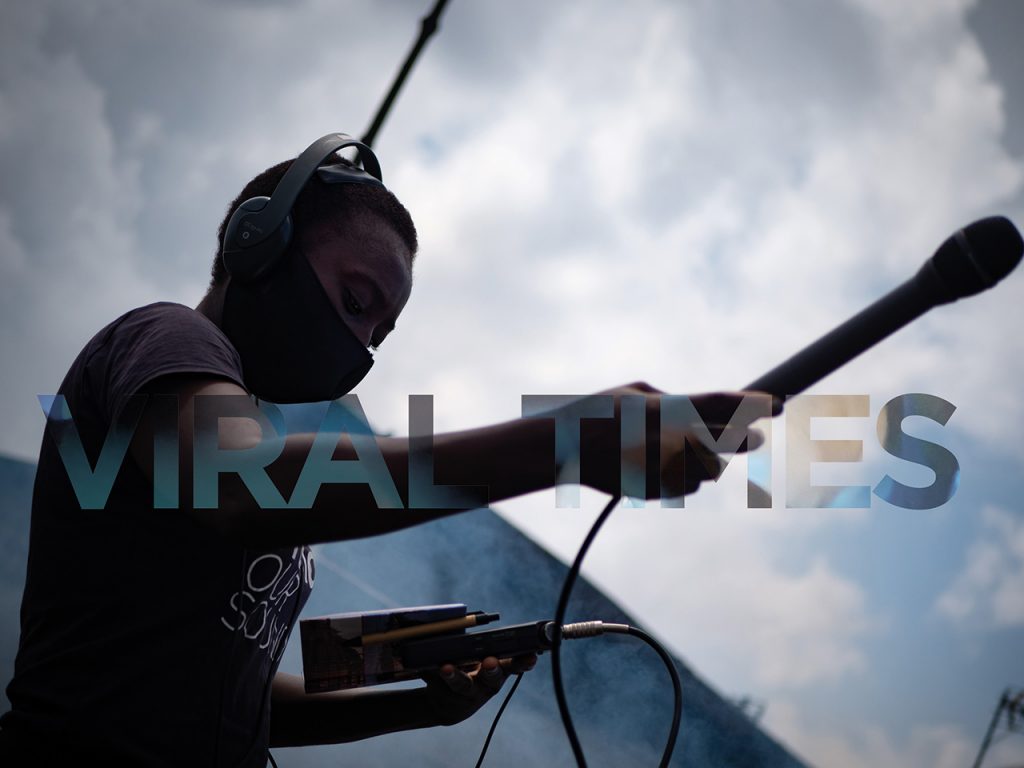 Welcome To Viral Times is an audio manifesto, a signal of intent and a list of ingredients for this site.


And this site, Viral Times, is a record of our days and a song of our futures.


We gather the stories, sounds and sights of neighbourhoods overlooked through this time of contagion. And before it. We are making ourselves seen and heard. We also hear laughter. We celebrate the colour and craziness of where we live. We take the pulse of our streets, we explore, experiment. We make music, share testimony, gather evidence. We map out the data. We hold to account.


We need to change the way we talk about and move about our city. Find new ways to make decisions. New ways to make food. New ways to make neighbourhoods. So much of our city is yet to come. In so many ways, our city, Port Harcourt, is a city of the future. But it is yet to reckon properly with its colonial past or its contemporary malaise. How will we produce power – both electrical and political – in Nigeria's oil capital? How shall we distribute it? What trees should we plant? How should we bring fruit and vegetables to our markets and how should we treat their waste? How to build our public spaces so that they promote public health? What material should we use to roof our houses? The future is close to home. For us these questions have the urgency of the everyday. And here we offer some angles on everyday lives that are a struggle for the future of the city.


Although the pandemic has brought much suffering and much confusion, it has also brought clarity. This crisis has helped us see more clearly that our city, our country, was already in crisis, that the past few decades have been a long unfolding series of disasters. So much that is usually obscured by habit or resignation is suddenly naked, its structure revealed. But our sense of what is possible has also been suddenly expanded. Welcome to Viral Times.


Here's what you'll find:


Under The Lens
What we are learning from this pandemic: investigations, critical reflections, opinions and passionate campaigning from the city's waterfront communities. Soundscapes and photo-series, as well as audio reports and articles.
Daily Dose
Our not-quite-daily dose of news and views on impacts and responses to COVID-19 and beyond, from the waterfronts and beyond. Articles and audio reports.
Micro Doses
Scenes and reflections from the city in a time of plague. Voices.
Waka Pass My Window
Coronavirus lockdown: with half the world indoors, we lean out the window to catch the views and voices of our streets. Audio pieces and photo-series.
Music
Sounds from our makeshift lockdown studio to gladden the heart and steel the soul. Songs and soundscapes.
Data Stories
We have walked the streets counting buildings, knocked on doors taking surveys, flown our drone making 3D maps, we've even paddled up drainage canals with a camera to bring you data on who, how and where we live.
Pandemic Timeline
Strange things have happened to time through the uncertainty, disruptions and illness the pandemic has brought. So we put together monthly timelines and digests of major policy announcements and public health measures: the numbers, decisions and the consequences.
All you see and hear here has been produced by young people from Port Harcourt's waterfront communities – the UN would call these 'informal settlements' and some insist on calling us 'the urban poor'. Welcome to Chicoco Radio. We also have some wonderful guests lined up – artists; activists; historians; reporters and special rapporteurs.
Stay tuned!