Pandemic Timeline: July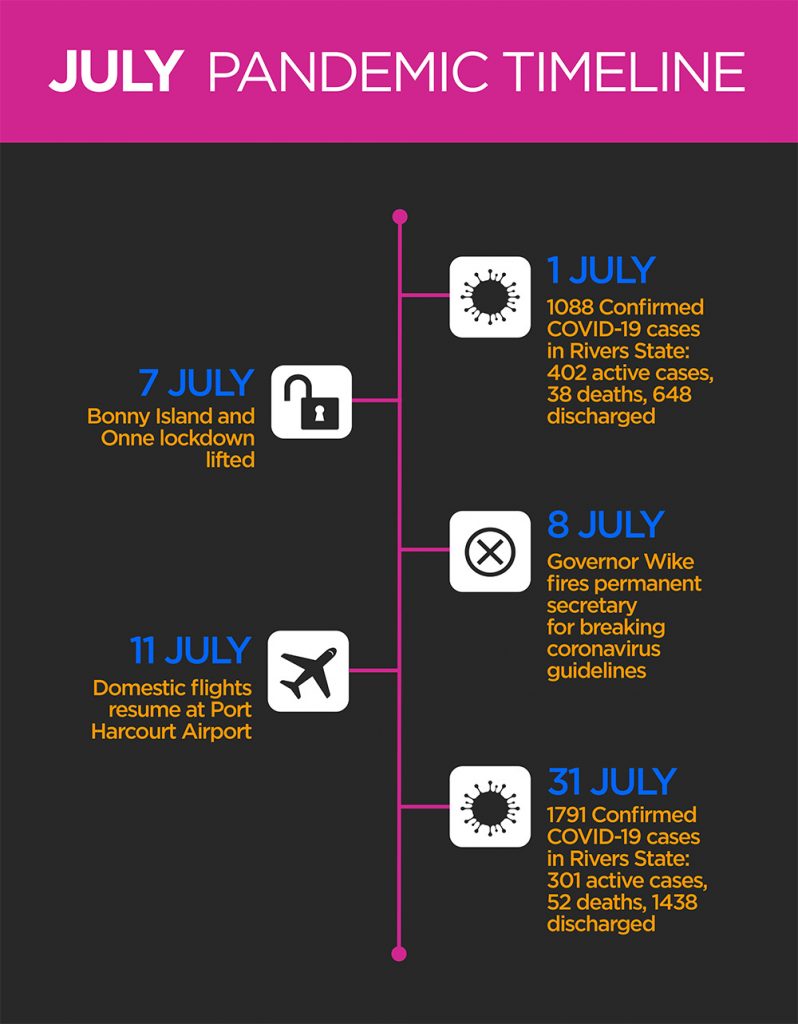 For the past month, people have been burying their dead in secret, after a new executive order requires that the Governor approve "a death certificate showing cause of death, in particular whether or not it was related to Covid-19," and restricts the number of people allowed to attend funerals to 50.
On 8 July, Governor Ezenwo Nyesom Wike fired his Permanent Secretary, Sunny Okere, for allegedly obstructing this order.
'Burial ceremonies are reportedly being conducted in clear breach of the 50 persons maximum attendance limit such that a serving Permanent Secretary had the temerity to chase away officials of the State Ministry of Health who went to enforce the established guidelines on public burials at Oyigbo,' the Governor explained.
He added that this would serve as a lesson to all other public officers who were considering flouting coronavirus preventions rules.
In Bonny and Onne, residents weren't extended the cordiality of an ended employment contract.
"If you refuse [curfew orders] you will be flooded by the Army," said Ijeoma, a pregnant housewife living in the locked-down area.
With the threat of violence, a disrupted food supply chain and reports of the virus spreading rapidly, Bonny and Onne suffered a fortnight of fear.
"Buying and selling was done in the secret," said Ijeoma. "Hospitals refused to admit people because, one, the people were much and, two, for the fear of the virus."
Asoliyah Jackson Brown, a former sub-contractor for NLG who lost his job at the start of the pandemic, was relieved when the lockdown was finally lifted after two weeks. His ex-employers had given out palliatives in his community, but it wasn't enough. With no food being delivered to the island, prices had skyrocketed and people were going hungry.
"We never got enough time to prepare ourselves for the lockdown,' said a resident of Onne. "The lockdown was announced on Sunday evening and it started on Tuesday without proper arrangement."
"It was really hell for me," she added.
On 11 July, after a month-long interstate flight ban, Port Harcourt Airport re-opened for domestic travel. The Minister of Aviation announced the resumption of flights, which would run to and from Lagos and Abuja, only.