Pandemic Timeline: June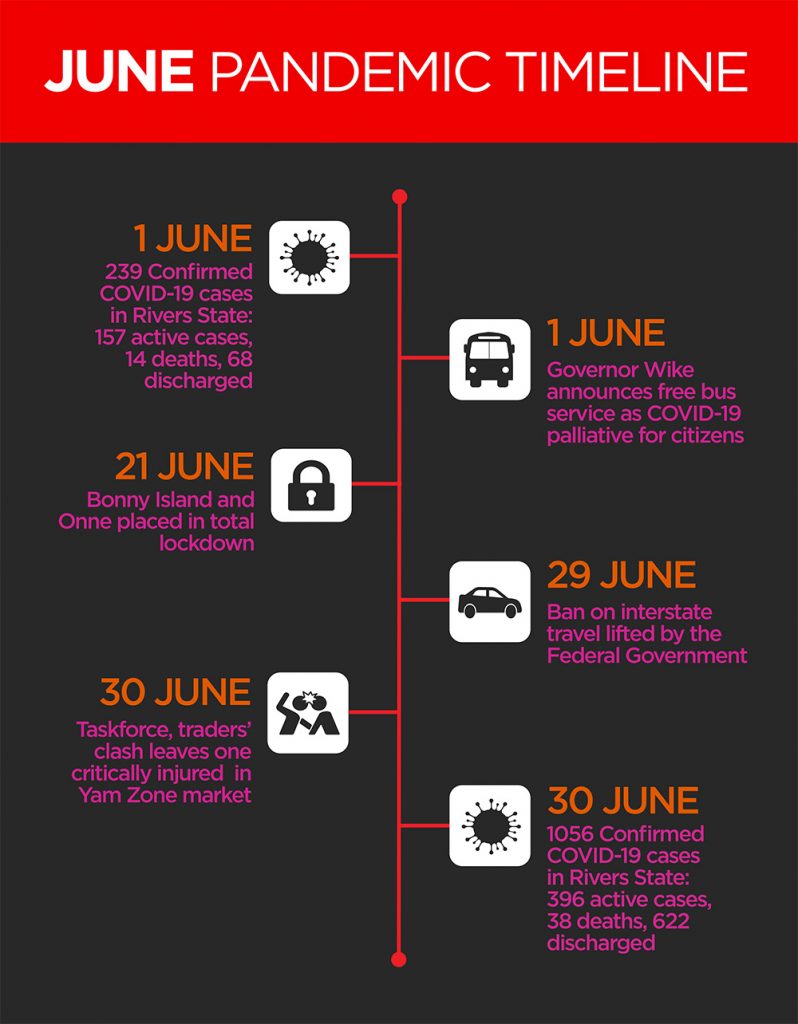 In a city whose only public transport infrastructure is an incomplete single-line monorail that has never and will never function, pandemic-related restrictions on commercial buses, taxis and tricycles have hit ordinary people hard.
Governor Ezenwo Nyesom Wike started the month by announcing that 28 'luxury' buses would provide free transport for denizens of Port Harcourt throughout the pandemic. This raises the question of what the buses were used for before the pandemic and why no public transport solutions were in place before now.
These 'palliative' buses will take passengers along designated routes in Obio/Akpor, Port Harcourt, Oyigbo and Eleme Local Government Areas. The buses will only pick up and drop off passengers at designated bus stops, from 6:30am to 7pm daily, and passengers and staff must observe strict social distancing, hand-cleaning and mask-wearing rules on board.
This is the first time an administration has provided such an extensive and subsidized public transit system in Port Harcourt. Understandably skeptical, some question whether the government will follow through with this pilot scheme and, if so, whether the service will be reliable.
However, the announcement comes as a relief to many and the service is highly anticipated.
On the 21 June, Bonny Island and Onne were placed under total lockdowns amid widespread reports of coronavirus cases. With restrictions on these two areas, Port Harcourt residents fear another total lockdown of the city, which was disastrous for many last month. Indeed, the Governor has warned that residents should be prepared for a statewide lockdown if the number of new infections continues to increase.
On 29 June, the federal government lifted the ban that had been placed on interstate travel, and announced the re-opening of schools for graduating students, effective 1 July.
Despite these federal plans for a phased reopening, it is not clear whether the Governor will follow these federal directives given his combative relationship with the federal government, especially recently in relation to the pandemic response.
Meanwhile, the Governor's Taskforce has continued to rain kerosene and machetes on the city's markets. On 30 June, a clash between members of the Task Force for Traffic Offences and Illegal Hawking and traders at Yam Zone led to a near-fatal attack on a roadside welder. Amid a flurry of rumours and believing the welder to have been murdered, workers the Yam Zone staged a protest, marching along Aggrey Road and demanding police intervention.