Pandemic Timeline: March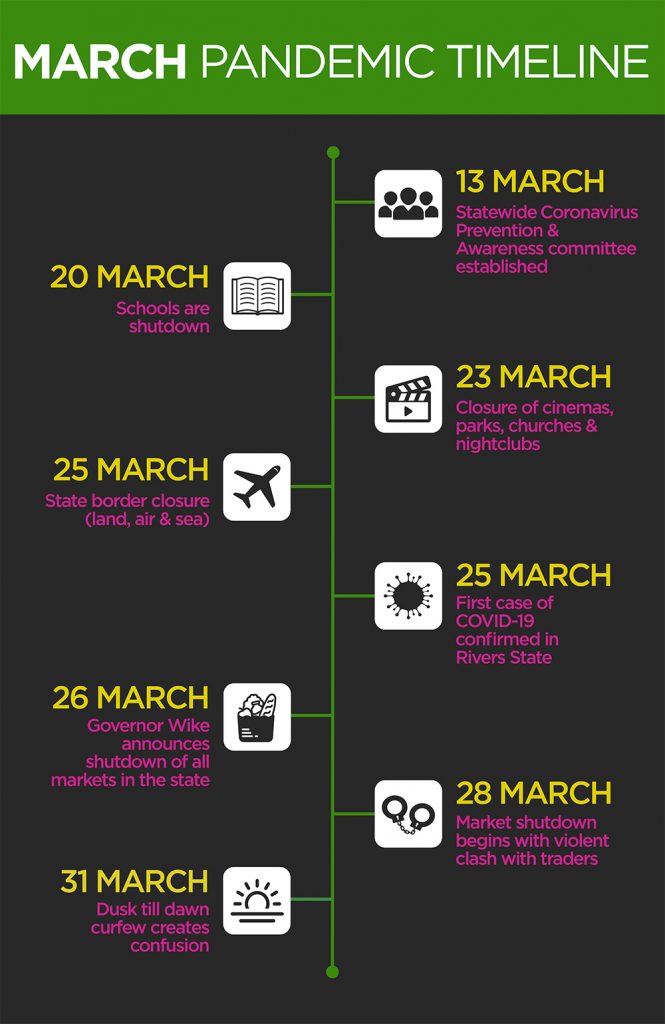 With the novel coronavirus spreading rapidly across the globe, there is much talk in international news outlets, public health organisations, academic institutions and governing bodies about how the spread of the virus will affect countries with different demographics, climates, and political systems. Countries like Nigeria, whose cities are densely populated and whose public healthcare system is in a perilous state, are a particular cause for concern.
But, unlike their Western counterparts, many African countries, including Nigeria, are surprising pundits by imposing preventative measures early.
Rivers State, located in the southern region of Nigeria and home to one of the country's largest cities, is intent on being proactive about curbing the spread of the virus.
On 13 March, 2020, the state governor, Ezenwo Nyesom Wike, established a state Coronavirus Prevention and Awareness committee. The governor announced that this special committee's aim was to create awareness for the prevention of coronavirus. Members of the committee included the Commissioner for Information and Communication, Commissioner for Health, Commissioner for the Environment, Commissioner for Chieftaincy and Community Affairs, and the Commissioner for Youth Affairs.
This announcement marked the first concrete step taken by the state government towards recognising the disastrous effect that the virus could have on one of the country's most densely populated states. However, there seemed to be no concrete plans for how the committee would operate, in practice.
On 20 March, Wike announced the closure of all primary, secondary and tertiary learning institutions. In a public address, he stated that all such institutions in the state were to be closed down with effect from Monday, March 23rd. Enforcement measures included withdrawing the operational license of any private school in the state that violated the order. The announcement did not address how teachers and students would continue virtual or distanced learning, nor if there would be any support provided to schools, teachers and pupils.
On 23 March Wike announced a statewide ban on public burials and weddings, and directed religious bodies to stop open worship. He also announced the closure of all parks, nightclubs and cinemas. Local government monitoring teams were authorized to enforce bans as well as set up border surveillance posts at major road crossings and ports.
On 25 March, Wike announced the closure of all air, sea and land routes into the state starting at 6pm on 26th March. This banned all vehicular movements in and out of the state and prohibited any flights into the Port Harcourt International Airport. The governor stated that these measures were a response to an alleged Port Harcourt-bound infected passenger who was stopped from boarding a flight in Abuja.
The announcement did not include plans for the movement of essential goods or personnel coming in and out of the state, nor did it address disruptions to the supply chain.
The day after this announcement, the state recorded its first case of COVID-19. The Rivers State governor responded by announcing several new preventative measures, including the shutdown of all markets in the state, starting on Saturday, March 28th. Wike also ordered all civil servants from Grade Levels one to 10 to stay at home.
This announcement was met with widespread fear and concern, with many families losing their main source of income. Many worried about how they would be able to continue to feed their families during this already precarious period.
That Saturday, the market shutdown began with a violent clash between traders and Wike's State Taskforce For Traffic Offences and Illegal Hawking. At his visit to Creek Road Market, traders threw sachets of water at the Governor and his entourage. Security forces fired live rounds in the air. There were reports of returned fire. The governor was swept away and a few hours latter the mayor of Port Harcourt and a mix of security agents and cultists [gang members] returned to beat traders and destroy their goods. This episode set the tone for market closure enforcement.
Despite the official proclamation, many traders continued to sell their goods in the market. With no date set for the resumption of trading activities, acting in defiance of the Governor's orders was worth the risk of violence to many.
On 31st March, Governor Wike imposed a dusk-to-dawn curfew from Obiri-Ikwerre Junction (Ozuoba, Rumualogu) to Choba and from Education Bus Stop to Agip Junction, Ikwerre Road. This measure was in response to a violation of the government's order to close down of markets, nightclubs and bars.
Initial confusion about the wording and timing of the curfew directive led to conflict with security agents and the arrest of many residents leaving their homes for work in the early morning. The Governor threatened a statewide curfew if residents continued to break COVID-19 protection measures.