Pandemic Timeline: October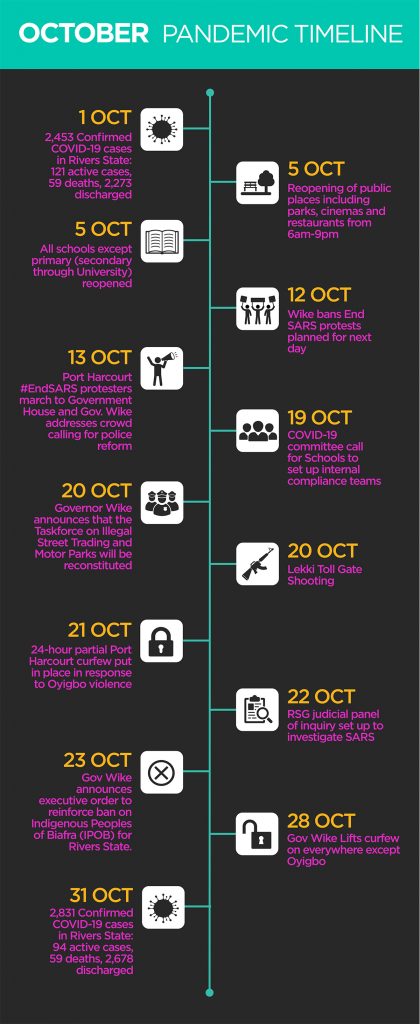 In October 2020, despite restrictions put in place to protect them from a deadly virus, young Nigerians came out together into the streets to confront something much more visibly violent: police brutality.
The police system in Nigeria, first put in place by a colonial administration in 1820, was set up to control and suppress, not to serve and protect. Its legacy of exploitation continues today, with independent reports and surveys showing a nationwide culture of violence and extortion.
In Rivers State, an #EndSARS protest was planned for 13 October in Port Harcourt, a city long terrorised by the notorious Special Anti-Robbery Squad. However, the evening before the protest, Governor Nyesom Ezenwo Wike put out a statement banning any protest action. Protest was unnecessary, he claimed: the Inspector General of Police, Mohammed Adamu, had already disbanded the faction.
While it is true that recent social pressure prompted Adamu to publically promise the disbandment of SARS, the unit has been nominally disbanded several times over the past few years. Yet the unit and their brutality have remained much in evidence.
Nevertheless, Wike threatened people planning to protest with arrest.
"Law enforcement agencies are also directed to ensure that the ban is enforced and that violators are brought to book," he stated.
But on 13 October, 2020, the young people of Port Harcourt defied the ban in their droves. The crowds marched across the city peacefully, carrying banners and signs and stopping to tell their stories along the way.
Wike apparently had a change of heart. By the afternoon, the Governor seemed to have joined in the protest, addressing the crowds of protestors from the back of a police truck.
"It is not only to end SARS. Already, there is a pronouncement to scrap it. But every Nigerian should support the total reform of the Police," he shouted through a megaphone.
He also took the opportunity to take a shot at his political rival, President Buhari.
He further claimed to be a longtime supporter of police reform.
"What you are protesting against, I had campaigned against it long ago. If only they listened, we will not be protesting today."
Although the Port Harcourt protests took place with minimal violence that day, the country was rocked on 20 October, 2020, when peaceful protesters at the Lekki Toll Gate in Lagos were shot at by soldiers. This led to international media coverage, which in turn put pressure on the Nigeria government to answer uncomfortable questions about who had given the order to shoot, and why — as well as mounting additional pressure on the government to put in place actual police reforms. The government responded with freezing the bank accounts and tapping the phone lines of civilians involved in the social movement.
On the same day of the Lekki shooting, Port Harcourt was dealing with the reconstitution of another law enforcement faction with its own particular legacy of brutality. Governor Wike announced that his infamous 'Taskforce on Illegal Street Trading and Motor Parks' would be reconstituted, after a two-month hiatus. This particular unit has left in its wake a trail of accusations from market traders to taxi drivers of violence and corruption. Wike claimed that the unit would be reinstated "to restore sanity to the streets."
On 21 October, Wike placed a partial curfew on the city of Port Harcourt and a total lockdown on the town of Oyigbo, claiming that the #EndSARS movement had been "hijacked by hoodlums to unleash carnage and destroy property." Our reporters in Oyigbo confirmed the apparent burning of a police station by protesters — as well as the arbitrary police response, in the form of breaking and entering nearby homes, indiscriminately arresting residents and physically assaulting people.
Wike announced on 22 October the creation of a judicial panel of inquiry to investigate historic police behavior in the state. The next day, he announced an executive order to reinforce an existing ban on the Indigenous Peoples of Biafra (IPOB).
As for pandemic-related government directives this month, on 5 October, Governor Wike announced that public places, including parks, cinemas and restaurants, would be reopened between the hours of 6am and 9pm. Meanwhile, on 19 October, the state COVID-19 committee had called for schools to set up internal compliance teams.
"Look around, most people are walking around without wearing face masks," explained Ambassador Desmond Akawor, chariman of the committee. "If students practice COVID-19 protocols in the classrooms and meet a different situation when they get back to the society, nothing has been achieved."
For updates on policing the police in Nigeria, stay tuned for our coverage of the Rivers State judicial panel.