Pandemic Timeline: September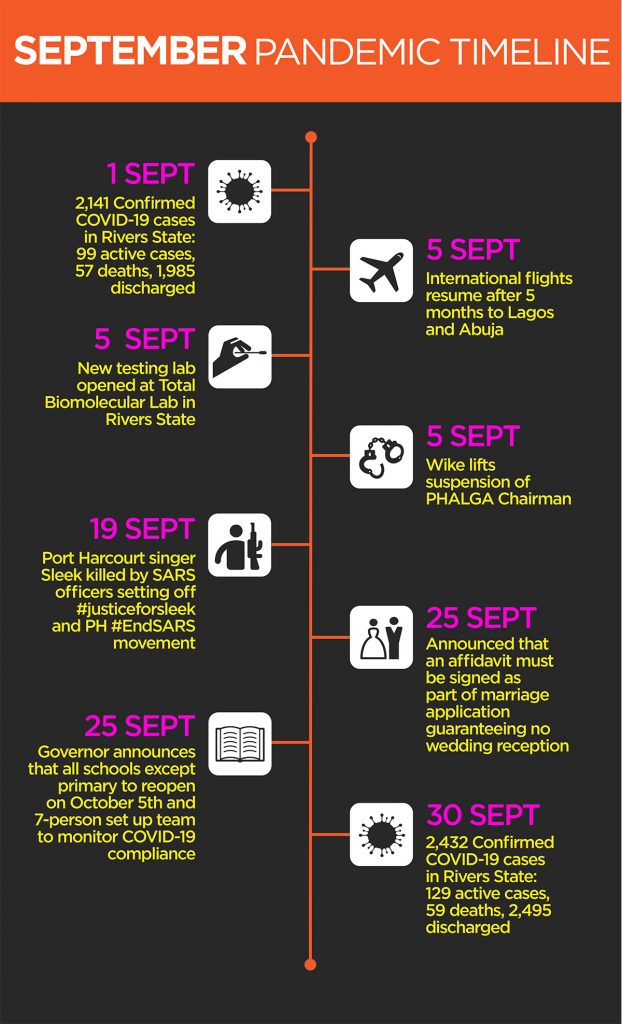 On 5 September, 2020, after five months of closed airspace, Lagos and Abuja airports resumed operation of international flights. With many embassies closed, however, international visitors remain unable to enter the country.
On the same day, Rivers State Governor Nyesom Ezenwo Wike opened a new testing lab, Total Biomolecular Lab. Unfortunately, this lab — like many others in the state — is private, and not accessible to the majority of people, who cannot afford to pay to the coronavirus testing fees.
There are currently four public testing labs in Rivers State. When we sent our researchers to these facilities to find how much a coronavirus test would cost, they were given mixed responses. Some of our team were told they could get tested for free, while others were asked to pay up to N80,000.
Governor Wike also lifted the suspension of PHALGA Chairman Victor Ihunwo with a warning that he should "abide by all the rules governing local government administration" and "desist from engaging in all forms of illegal or double taxation."
On 19 September, Port Harcourt singer Daniel Chibuike Ikeaguchi, known by most as 'Sleek', was killed by a SARS officer, sparking police reform movements #JusticeForSleek and a resurgence of the #EndSARS movement that has flared up every year for the past four years.
On 25 September, the state government announced that all schools except primary will reopen on 5 October. A 7-person team will be set up to monitor COVID-19 compliance. The government also announced that marriage applications must be accompanied by an affidavit affirming that there will be no reception.