Pandemic Timeline: April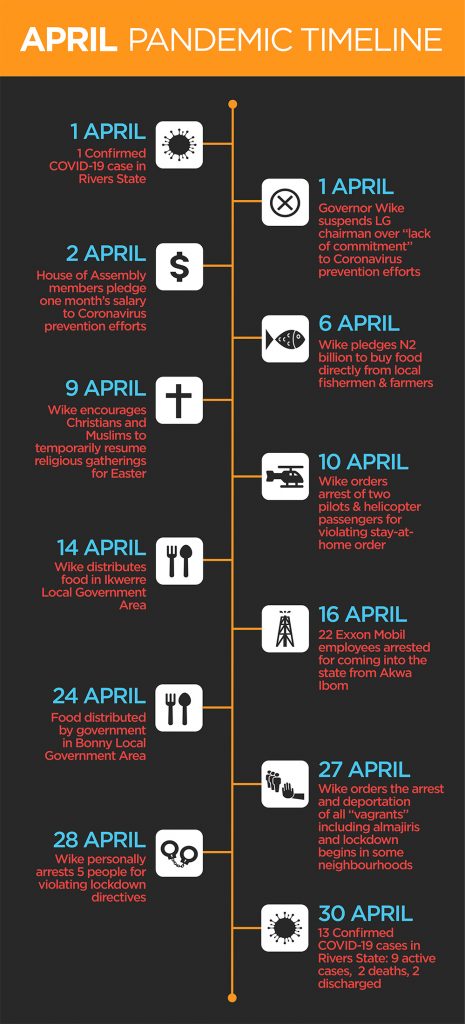 April began with the suspension of a local government chairman over his 'lack of commitment' to coronavirus prevention efforts. The Obio Akpor chairman had failed to implement the state's directive on the closure of markets to the governor's satisfaction.
The next day, House of Assembly members pledge one month's salary to 'combat Covid-19 pandemic in the state'. Their salaries would by deducted by the Ministry of Finance and forwarded to the State Coronavirus Prevention and Awareness Committee. However, it was not stated how the funds would be allocated by the committee to support and protect residents, nor is expenditure transparent.
On 6th April, Wike earmarked N2 billion of state funds to buying food directly from local fishermen and farmers. The goods would be distributed to residents to lessen the impact of closed borders and markets, he claimed. The governor set up a 33-person committee to work with the farmers and fishermen and to communicate with the state's 23 local councils. Wike further stated that Port Harcourt and Obio Akpor, the most populous Local Government areas in the state,, would be first to receive support through this programme.
Despite being several weeks into COVID-19 restrictions, this was the first major news on widespread 'palliative' support. There remains significant skepticism as to whether this will benefit those who need it most, such as those living in extreme poverty in Port Harcourt's informal settlements, as well as what the protocols will be for distributing this support.
On 9th April, Wike seemed to have a change of heart about the severity of the virus, and encouraged Christians and Muslims to temporarily resume fellowship. Restrictions on religious gatherings were relaxed for three days to allow Muslims to observe Friday prayers and Christians to celebrate Easter.
The governor's announcement came with a mixed message. Wike encouraged churches to hold Easter services with their full congregation, but later stated that religious gatherings should not involve more than 20 worshippers, including the pastors and choir group. Despite this, churches were filled with people on Easter Sunday, with little to no social distancing or wearing of masks.
The very next day, Wike resumed his punitive approach to coronavirus prevention. On 10th April, the governor ordered the arrest of two pilots and helicopter passengers for violating their stay-at-home order. The pilots flew 10 oil and gas workers into the state. While the governor stated that the pilots defied his executive order barring flights into the state, Caverton, the pilot's employers, said it had 'all necessary approvals' from the federal government to be exempt from the presidential restrictions on movement.
On 14th April, the Rivers State Government distributed food to all 13 wards in Ikwerre Local Government Area. Food was given to representatives from each ward, including a mix of community leaders, clerics and traditional rulers, to distribute in their ward. However, there was still no clear process for distributing food to those across the state who most needed it, and no transparency about how food was being distributed within each ward. Ten days later, on 24th April, the same process was carried out in all Bonny Local Government Areas. There have been multiple reports of food being thrown form the back of moving vans, of fights breaking out over distributed food and of food hoarding by those tasked with distribution.
On 16th April, Wike once again took action against the oil and gas insudrty. He ordered the arrest of 22 employees of Exxon Mobil, who entered Rivers State from Akwa Ibom State, for violating the executive order restricting movement into Rivers State. The group of Exxon Mobil workers were released several days later, after the Petroleum and Natural Gas Senior Staff Association of Nigeria (PENGASSAN) instructed its members to withdraw all forms of services relating to crude oil production, refining, distribution and supplies in the state unless the detained workers were freed.
On 27th April, Governor Wike implemented his most targeted and punitive directive yet. The governor rounded up all 'vagrants', including Almajiri (children enrolled in the Almajiranci Islamic educational system, often from Northern Nigeria), and ordered that they be deported to their states of origin. 'To protect our people from the threat they present to the transmission of this pandemic,' he claimed. It is unclear on what medical advice he based this extremely prejudicial policy.
While the government claims that deporting homeless people and children is necessary to protect the people from the viral threat mendicants supposedly pose, this policy is discriminatory and provides no support for one of the state's most vulnerable populations.
Wike also announced the 24-hour lockdown of certain parts of the city, including Elekahia, Rumuomasi, Stadium Road and Rumuobiokani, until further notice, for their failure to comply with preventive directives and advisories on large gatherings and social distancing.
The day after announcing this lockdown, Governor Wike drove around the locked down area with a security caravan to ensure compliance. The governor personally arrested five people for travelling on the road without proper documentation. The constitutional basis for this exercise in unclear.
With videos of these aggressive encounters circling on social media, it is clear that criminalization, fear, and enforcement are the main strategies of the state government to enforce COVID-19 prevention measures. These are not sustainable strategies.